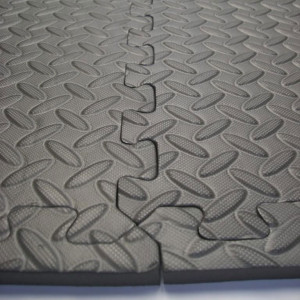 Onze eerste editie was een groot succes en dat is deels te danken aan onze vriendelijke vrienden van de Amsterdam Kink Academy. De fijne schuimrubberen vloertegels hadden we namelijk van hen in bruikleen. Ook de komende Bark & Play mogen we deze tegels weer gebruiken, maar we willen toch wel erg graag zelf zo'n vloer aanschaffen. Het probleem is dat dat best wel wat kost.
We willen daarom vragen of jullie als bezoekers van Bark & Play een bijdrage zouden willen leveren aan onze vloer!
De opzet is die van een crowdfunding, dus je krijgt er niet alleen de vloer voor terug, maar ook een presentje, afhankelijk van het bedrag dat je bijdraagt aan de vloer. Hieronder vind je een overzicht van de beloningen.
Je doneert €10,- (of meer) – je ontvangt een dikke knuffel van Milo en Kriszly
Je doneert €25.- (of meer) – je ontvangt een gave Bark & Play sleutelhanger
Je doneert €50,- (of meer) – je ontvangt een officieel Bark & Play t-shirt
Uiteraard mag je ook geld geven zonder beloning, dan bereiken we ons doel alleen maar sneller!
Wil je meedoen met deze actie?
Vul dan onderstaand formulier in.
Als we je aanmelding hebben ontvangen, nemen we zo snel mogelijk contact met je op.
Fout: Contact formulier niet gevonden.
---
Bark & Play needs your help
Our first party was a huge succes. In part because we had some help from our friends of the Amsterdam Kink Academy who let us use their foam tiles for the play area. We can use these again for the next Bark & Play, but in the end we would really like to have our own floor. Unfortunately these tiles aren't cheap.
That's why we're starting a crowdfunding. So if you join in, you will get a great floor, but also a nice perk, depending on the amount of money you donate. The perks:
If you donate €10,- (or more) – you'll get big hugs from Milo and Kriszly
If you donate €25,- (or more) – you'll get a really cool Bark & Play keychain
If you donate €50,- (or more) – you'll get the official Bark & Play t-shirt
Ofcourse you can also donate without receiving your perk. We will just get to our goal even faster that way!
Fill out the form to join.
As soon as we receive your entry, we will contact you with further details.