To our foreign visitors
Woof!
VSSM Bark & Play is the oldest Dutch national puppy play event and is aimed at Dutch visitors.
However, if you are visiting The Netherlands from abroad and want to join us, you are more than welcome!
On this page you will find everything you need to know.
Should you have any questions after reading, please do not hesitate to contact us on twitter (@BarkPlayNL) or use the form on the contact page.
We hope to see you soon!
*nuzzles*
VSSM Bark & Play Crew
About
Why?
Because we want everyone with an interest in puppy play (or pet play) to be able to discover it in a fun and safe environment. At VSSM Bark & Play you can share your experience and play with other pups, handlers and trainers and let the inside pup get out.
Who?
Pups, Dogs, Owners, Sirs, Handlers, Trainers, Puppysitters and ofcourse everyone else interested in puppy play who is 18 years or over. All genders and sexualities are welcome. Whether you are well trained or completely new to the world of pup play doesn't matter. Please join us!
Where?
You can find VSSM Bark & Play at Dance Bar Marcus Antonius in Nijmegen (St. Anthoniusplaats 15). There are several parkings in the vicinity and it's a 12 minute walk from the Central Train Station of Nijmegen.
When?
Saturday 5 September
Saturday 7 November
What time?
VSSM Bark & Play always starts at 2 pm. The bar and the playground are open all afternoon, so there's plenty of time to bark, slobber, nom and of course to play. At around 6 pm we start to clean the place up.
Saturday 5 september – VSSM Bark & Play 5.5
meet pups, chase tails
We offer
Fun
That's what it's all about. We want everyone who visits the event to have fun. Come on in and join us for a nice conversation or just to watch and play!
Foam tiles
A pretty large area will be padded with foam floor tiles. This is our puppy playground. Be careful when walking there, because one can easily trip over a pup or step on a paw.
Toys
Yes, we love our toys, especially the squeaky ones! *squeak* We will provide several squeakies, but also tug of war ropes and ofcourse balls, but please bring your own favourites!
Drinks and snacks
Drinks are priced friendly and we have straws for hooded pups. At the bar you can relax, chat, lie down and bark with other pups. There are barstools and some sofas.
Treats
Ofcourse we will provide the necessary treats for the pups.
Relax
Opposite the bar we have some comfy sofas to relax on. For a puppy a pillow is of course the preferred spot to relax, so if you have your own puppy pillow feel free to bring it along with you!
We ask
Entrance fee of € 15 per person/pup
It's not that we don't love you, but we do need to pay the rent. Members of VSSM get free entrance to VSSM Bark & Play. We will wag so hard if you use our option to pay upfront. Of course you can also pay in cash at the door, exact change appreciated.
Pictures
Take care when taking pictures. Please make sure there's nobody in the shot, who doesn't want to be. If this happens by accident, please anonymise them when publishing the picture. We want everybody to feel comfortable and completely able to be themselves and let go.
Protect your hands and knees
While we have foam floor tiles, your knees will suffer quite a bit when pupping out on all fours. Please take care of your paws!
Drink sensible
At the bar we also serve alcoholic beverages, even though we think that alcohol and play do not mix. Please know your limits.
No means no
When somebody says or gestures 'no', they usually mean 'no'. Treat each other with respect please.
Be social
Our venue is a gay bar with no darkroom or other sex facilities. We want to stress that VSSM Bark & Play is aiming to be a social gathering. Guard your own limits and be respectful towards the limits of your fellow visitors.
Subscribe to WoofMail
We only use the information provided to send you WoofMail.
For this service we use MailChimp. Their terms of service and privacy policy can be found here.
Every WoofMail contains the option change your settings or to delete your information.
If you decide to delete your information, you will not receive any more WoofMails.
Team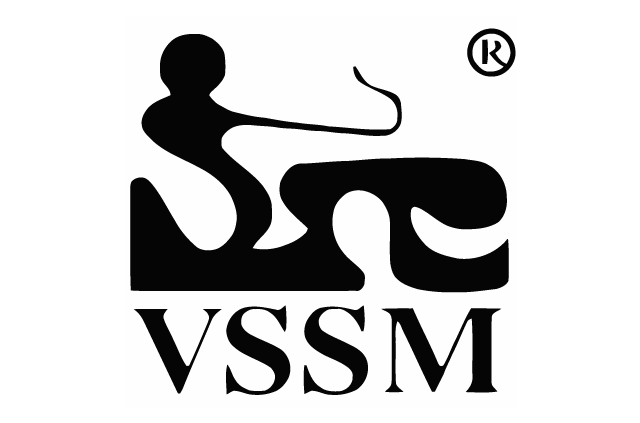 VSSM
VSSM (Vereniging Studiegroep SadoMasochisme) is the oldest and largest BDSM association in Europe. It serves the interests of people who love and choose to be active members of the BDSM community. Its most important goals are to organise accessible BDSM events and to work towards social acceptance of BDSM.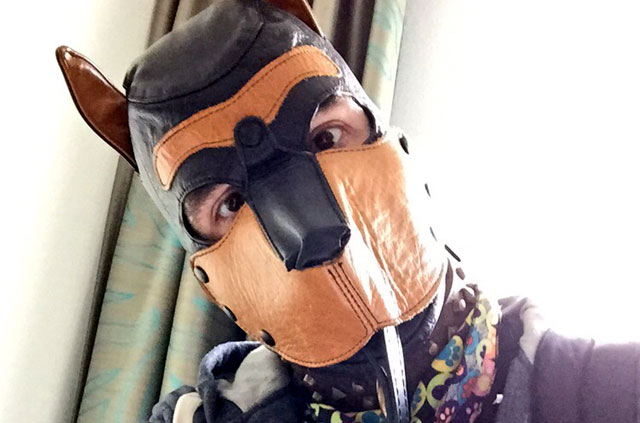 Pup Milo
Pup Milo was born in December 2013. Since then he has been padding around as an active member of the puppy community. He's been busy visiting fetish events like Folsom Europe, Darklands Antwerp and Gay/Leather/Fetish Pride Amsterdam and loves to show everybody how much fun there is to be found in human puppy play.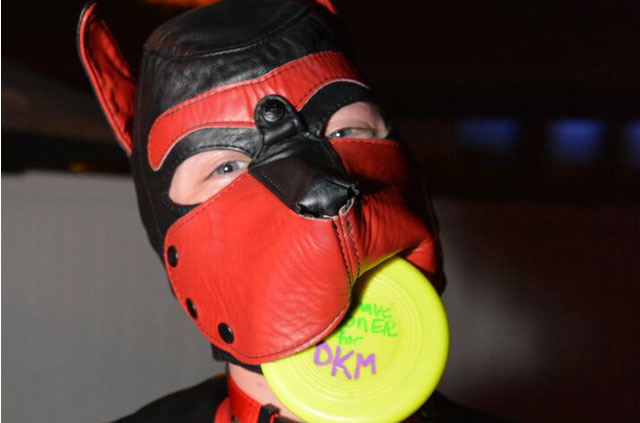 Pup Kriszly
Pup Kriszly put his first paw prints down back in 2014. Come 2015 he competed in the first Mr Puppy Europe contest, held during Darklands Antwerp. He won the contest and became the first Mr Puppy Europe, travelling to Saint Louis to win first runner up during the International Puppy Contest. Kriszly is a very active member of our community!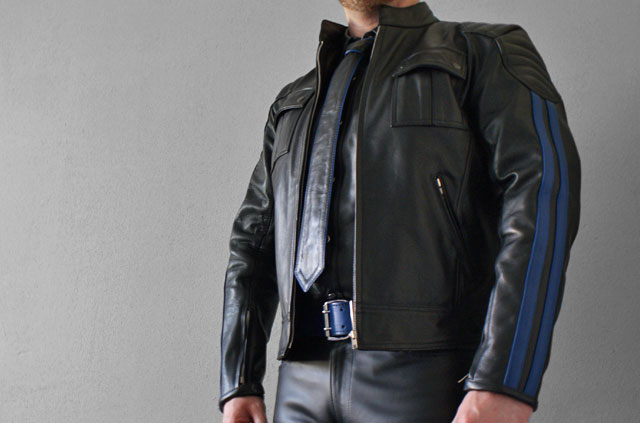 Sir Daniël
Sir Daniël has been a Leather Master for several years now and started developing his puppy handling skills in 2013. His main fetishes are leather and boots. At Folsom Europe Berlin in 2014 he found the stray Pup Milo. As of 13th February 2015 Sir Daniël is Pup Milo's handler.
What pups are saying
The Dutch puppies at Bark & Play provided a magnificent welcome for @Doggywau and me! Such a great group and so great to hang out with!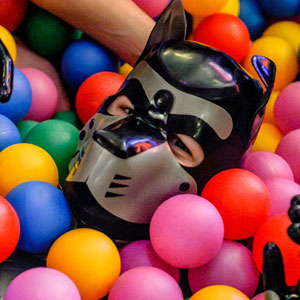 Felix Katz
hipsterkatz @ Twitter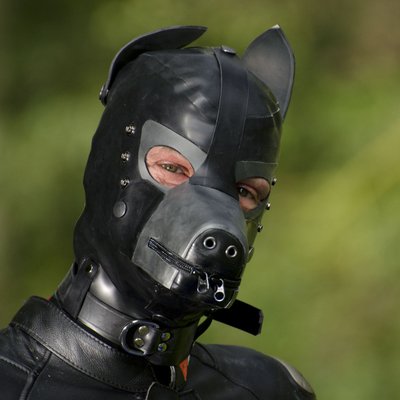 Scooby
Scoobels @ Twitter
Thanks @BarkPlayNL ? it was a wonderfull time again ????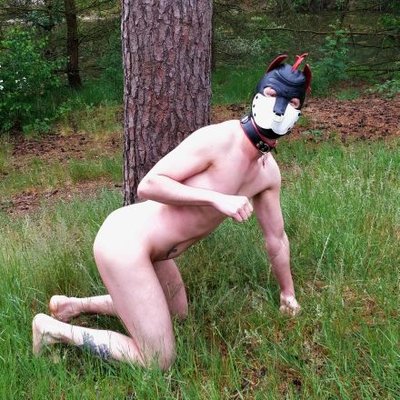 Zannak
DarkZpup @ Twitter
Thanks for the wonderfull time ?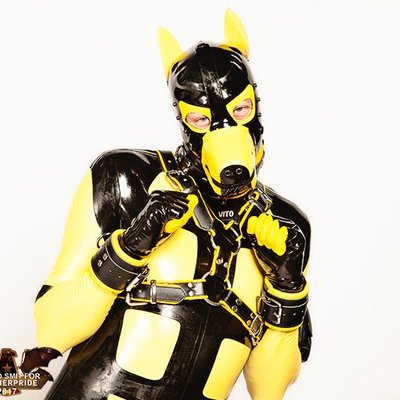 Pup Vito
pup_vito @ Twitter